Traditionally, there is a stream of tourists arriving in Istanbul, eager to meet New Year in the city. And although the Turkish remote places do not take mass festivities about the celebration of the New Year, restaurants and hotels prepare festive programs, the premises are decorated with garlands and put up Christmas trees. The European fashion for the New Year holidays in Istanbul has gradually spread and we are helped by many factors; acceptable weather conditions, delicious cuisine, magnificent sights and good Turkish service.
There are many options for meeting the new year 2019 in Istanbul, but the majority of tourists recommend to meet it on the Galata bridge in their responses. It is a bridge across the Golden Horn, connecting the new and old parts of the European side of the city. Here come to admire the festive fireworks, on the lower floor of the bridge there are many fish restaurants, where you can book a table in advance.

District of Taksim and the street Istiklal the heart of the city at night. There are many shops, bars, nightclubs, the doors of which do not close until the morning. According to tourists, here you can try the most delicious food, and for this, it is not necessary to go to an expensive restaurant, fast food is also very tasty. On New Year's Eve, it is necessary to book a place in advance, as prices soar upwards. Such a pastime will be more popular among young people.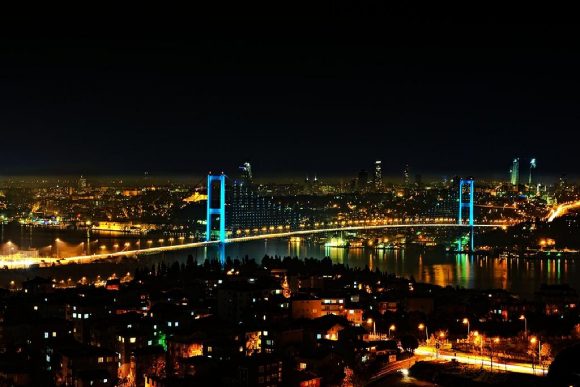 Another option for the New Year's Eve in Istanbul is to take a walk on the boat, drink champagne with light snacks and enjoy the views of the night city in the lights, dissecting the waters of the Bosphorus. In general, you will not have a question about what to do in Istanbul for the New Year you will not be bored in this city.

It is an amateur recording by Arek Braniewski in 2016. He recorded the fireworks on his phone. If you are trying to find what to do when the new year period, you should really join the Bosphorus cruise party. http://newyearistanbul.net/party/new-years-eve-party-cruise-bosphorus/